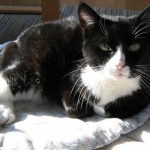 Four weeks ago today, we had to put our beloved, but elderly and infirm, Pippa to sleep.  My life has been a bit crazy lately, and so I feel like I haven't really mourned her yet.
But this morning I got up after having slept a bit late, and thought to myself how lovely it would be on this day off to make a pot of tea and snuggle on the sofa with Pippa and our favorite "magic blanket."  And it hit me like a ton of bricks that Pippa isn't here anymore.
She was a wonderful girl: smart, affectionate, kind, tolerant, dignified, and an incredible (if reluctant) role model to Moses, Millie, and Moxie.  I miss you, Pippa.