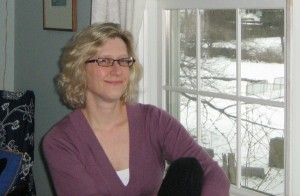 Abby Kingsbury has a varied background: a degree in English from Haverford College; many years of specialty toy retail sales management experience; a master's in children's literature with a focus on Reader Response theory from Simmons College; Level I Certification in the Wilson Reading System; several years teaching phonology, reading, and writing to elementary special education students at an elementary school; and experience writing book reviews for a national review journal.
She now works at her dream job as a children's librarian, a job which happily incorporates all of her education and experience.  In addition to working at the library, she maintains a private tutoring practice for students with encoding and decoding difficulties; this tutoring practice also helps with purchasing books for and serving children with learning disabilities at the library.
In the fall of 2018 I decided to go back to graduate school to work on my second master's degree.  I am a current MLIS candidate at Simmons University School of Library and Information Science. Completed courses include: Information Sources and Services, Information Organization, Principles of Management, Technology for Information Professionals, Library Collections and Materials for Children, Organizational/Information Ethics, Independent Study on Ethics of Curbside Services in COVID, and Independent Study on Children's Programming in COVID.
The opinions expressed in this blog are those of Abby Kingsbury and belong solely to her.  This blog is funded only by Abby Kingsbury's own personal funds.  All blog entries are written in the author's personal time.
Copyright Notice:  All original content on this blog: Copyright 2006 – present Abby Kingsbury.  All rights reserved.