I might need to change the description of this blog – adding "and dogs" – because we brought home a new family member on Saturday.
Her name is Clarabelle, and she's a sweet, mostly mellow, loving gal from East Tennessee.  She met our vet yesterday, and he thinks she is less than two years old, and that she is a "failed hunting dog" due to her docked tail and her probable breed mix (he thinks lab/hound mix, or perhaps lab/hound/terrier mix).  His best guess is that she was dumped after failing her hunting dog training.
All we know of her background is that she was found near the end of April at a general store in Tennessee, where she was going into and out of the store being social with people.  She then moved on to a different general store and did the same thing, at which point she was picked up by the MARC rescue group.  Clara had obviously been nursing puppies, and the rescue thought that maybe the seven puppies they had found a few days prior to finding Clara might be hers, but she rejected those puppies.  Clara was fostered in a loving home, and put up for adoption by Great Dog Rescue of New England (her name at that time was Layla, but we couldn't live with that song going through our heads for the rest of our lives!).
Clara is incredibly sweet, and good with people and dogs (a bit submissive with other dogs, actually).  She rarely barks, although she gets a bit riled by bunnies in yards and the Weimaraner down the street.  Thankfully, she couldn't care less about our neighbor's two barky hounds.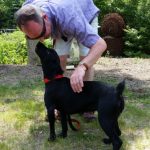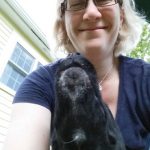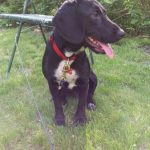 We're taking the introductions with the cats very very slowly, especially since Clara seems to have a bit of a prey drive (contrary to what the rescue group told us).  So far Clara and the cats have only met by smelling each other's traces in our living space and by seeing each other through the French doors.  Our vet gave me some good tips to help ease the introduction process, including taking it very slowly, rubbing a towel on the cats and putting that towel in Clara's crate, and good advice on how to manage the day of face-to-face intros.  Clara has lived with a cat before, so we're hopeful that we can make this work and have a very happy home!